Achieving Manufacturing Success with CAD-CAM Software
Jim McPherson is a manufacturer that uses BobCAD-CAM software to convert CAD drawings into machine toolpath and CNC programs for machining. Here is what he had to say about the CAM software.
"CAM (to me) is the most confusing part of the CNC process. So many options! I've finally settled on a CAM package that has eliminated my 2D-3D meshing of different gcodes, allows me to do high speed machining techniques (even at slow speeds), does rest machining, AND has a built in simulator. I recommend giving BobCAD-CAM a try. Al Depoalo helped me get started, he has been very patient, and easy to deal with. I'm amazed at what modern technology allows us to do!"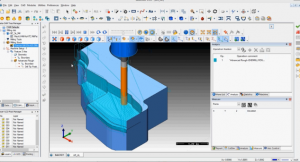 If you have a project and a need to machine parts with a fully integrated CAD-CAM system, then Download a Free Demo of the latest BobCAD-CAM software today! Click HERE to Download
---
BWE Firearms | Richard Hoffman – Master Gunsmith
Richard Hoffman is a master gunsmith and the owner of BWE Firearms. He has been using BobCAD-CAM software since 2002 to design and manufacture the component parts for a variety of products he makes…
BobCAD-CAM recently visited BWE Firearms in Orlando, Florida to meet one of their customers about their manufacturing successes. Richard Hoffman is a master gunsmith and the owner of BWE Firearms. He has been using BobCAD-CAM software since 2002 to design and manufacture the component parts for a variety of products he makes. With a history rich in working with and using firearms Richard finished his formal gunsmith schooling in 1985 and set out to manufacture his line of firearms and needed a solution to cnc machining parts that he would otherwise not be able to create. After discovering BobCAD-CAM software he was able to design the pieces that he needed quickly and then generate the machine program with ease.

Once he was satisfied with the design aspects he could create the right machine toolpath and cnc programs that he needed to complete his projects and succeed. "The aspects that I like or use the most are probably the wizards in the CAM Tree. I can't say enough about them," Richard commented when we asked him about the CAD/CAM software. BobCAD-CAM directly addressed the job control and ease of use challenges that manufacturers run into when using CAD/CAM software by developing "Wizards" that step the operator through the machining process of creating a program for a cnc machine tool to use. The machining wizards remove the guesswork and organize the entire process. The software categorizes the machining processes so that the operator can easily select the one that is needed. Then the wizard guides the operator through geometry selection, tool selection, posting parameters, toolpath styles and the many parameters that dictate what the toolpath will look like and actually do when the tool is cutting the material. This also includes special options for tool step-over, depth controls, tool lead-ins and lead-out and a lot more.
One very important thing for Richard was the affordability of the BobCAD-CAM software. He had a lot to say about the affordability of the product and how small shops like his can afford it as opposed to some of the other CNC software products on the market today.
Richard Hoffman – Master Gunsmith & Owner of BWE Firearms
Download a FREE CAD/CAM demo HERE
---
Darrel Ralph Designs
Darrel Ralph is a custom knife designer and manufacturer and offers more than 50 years of quality experience in the business. He uses BobCAD-CAM software and this is what he has to say about it…
"I have been using BobCAD-CAM Software since their version 7. That's a good many years! Last evening I was completing a drawing in 3D that has two different size radiuses at each end of the part. To my surprise BobCAD set the tool path with such great ease I thought this was a fluke. So I drew several lines and arcs at different depths. I used the same procedure. I just picked each element and BobCAD made a tool path for this very odd looking random part. To be quite frank I feel BobCAD has made a major leap in the 3D machining world! This is a major improvement that makes 3D machining in most CAD-CAM programs look complex and cumbersome to 3D machine with. This is simple and works like a machinist or CNC programmer thinks.
"I also made a solid from another program, imported it and machined it in just seconds to see if the tool paths were just a glitch. NOPE! BobCAD has broken the barrier in 3D CNC machining! You have the world's easiest CAD-CAM system that is set up for real designers, CNC programmers and machinists to use. I like the fact that a programmer can use BobCAD like some of the other "CNC for dummies" programs in the CAM section or if you have experience and can read the code you can use it with complete control the way you want it to machine the part.
"This is my 30th year programming NC and CNC. I design my own products, prototype and run them in my shop. I have many expensive and high priced CAD-CAM systems. NONE of these other programs can even get close to BobCAD-CAM when it comes to CAD/CAM functions!"
Darrel Ralph
Darrel Ralph Designs – Galena, OH
---
NOVA Research, LLC
NOVA Research, LLC was founded by Paul Novakoski in March, of 2012. NOVA Research specializes in Mechanical Design services, Manufacturing (Machining) Services, and Design and Manufacturing Consultation services.
After procuring my first VMC, I knew the next obvious step was CAM Software. Being a long time user of the 'other guys' I knew it was a large investment that, in all honesty, was going to be very difficult to achieve. I began looking into other CAM Software packages, one being BobCAD-CAM software.
"Obviously I had to start producing immediately, so the thought of buying CAM Software I was unfamiliar with would produce a learning curve that would be a challenge. Again I weighed all the odds and decided to purchase BobCAD-CAM software.
"I can honestly say, without a doubt, it was definitely one of the better decisions I have made, BobCAD has proven to do EVERYTHING the 'other guys' can do, and some features are much better! The user interface was very familiar, and comparable to the primary 3D design software I currently use (the 'other guys' user interface is cumbersome.) I was posting code, and producing parts in hours – not days! "I will admit I was skeptical, as the price of BobCAD is much, much cheaper than the 'other guys,' but it has proven to be every bit as powerful and much better in many ways.
"My advice to anyone looking to procure CAM software in the near future: Don't be fooled by the cost, BobCAD-CAM will do everything you need. Don't get hooked into outrageous licensing, maintenance fees from the 'other guys,' not to mention paying for every post processor you need. Give BobCAD-CAM software a try: download a trial, and try it. I used the 'other guys' for 20+ years… I won't use them anymore."
Paul J. Novakoski, President
NOVA Research, LLC
---
H&S Constructors
Since 2009 I have worked in the Vessel and Machine Shop Division of H&S Constructors as a lead programmer for the CNC Dept.
Our company chose BobCAD V24 as our primary CAD/CAM system due to its capability, affordable initial investment and technical support. There is a demand for "same-day-parts" in the petro-chemical industry and it is required from me to program on-the-fly and produce an accurate and reliable part for our customers the first time around. BobCAD has allowed me to cut down significantly on hand programming. I can quickly and accurately draw 2D geometry and then apply the appropriate toolpath for our tooling availability. This in turn allows us to deliver the part to our customers earlier than expected or on schedule.
Knowing that I have a CAD/CAM system that I am comfortable with and understand has allowed me to spend more time researching different types of tooling that will help maximize material removal and increase over-all productivity.
Solid model features in BobCAD have also allowed me to include prototyping and reverse-engineering for unique projects that are received on occasion. There is a great satisfaction in the ability to present customers with a 3 dimensional rendering of their concept part.
I depend on BobCAD and encourage anyone that needs an affordable and comprehensive CAD/CAM system to give it a serious try – It will be time invested wisely.
William Bright – Lead Programmer
H&S Constructors, Fabrication Div.